The 3 Best Camera Angles for Food Photography
Choosing the right camera angle for your food photography scene is really important. Every angle can emphasize the food in a different way. In food photography, there are 3 camera angles that are used the most. In this blog, I explain why you should use them, and when you should use them in your food photo.
A camera angle is about the way a shot is composed. It is the angle of the camera relative to the subject. It is an easy compositional technique that can help you create a powerful image. Therefore it is important to think about what camera angle you are going to use and plan your shoot ahead. If you are struggling with your composition it sometimes helps to change your camera angle to get a new perspective.
But what camera angle is the right angle for your food photography? That's where this blog post comes in handy.
Below, I share three camera angles that pretty much always get great results. I explain when they look the best and how to use them.
Planning
It is important to style the food for the angle you are shooting. Therefore it is important to know beforehand what angle you are shooting. So plan ahead and think about your composition at an earlier stage. Think also about the story that you want to tell.
If you are shooting from above for example the food at the top has to look amazing. If you want to shoot the same food from another angle you have to change the composition for the other angle.
The best camera angles for food photography
There are 3 best camera angles for food photography – overhead, 45-degrees, and straight on.
1. Shooting from above
The first angle is to shoot from above, also called a flatlay or an overhead shot. An overhead shot is taken from above (90 degrees angle). An overhead shot emphasizes the shape of the food, lines, and shadows. Most hero dishes look amazing when shot from this side. The bird's-eye perspective can be used for almost every dish. Especially flat foods like pizzas, pasta, salads, noodles, bowls, soups, and pies are perfect for this angle.
You can show off the entire dish when you are shooting from above. Use a wider lens like a 50 mm lens or 35 mm (for a crop sensor camera), so you don't have to get too high from the ground while shooting. I love shooting flatlays with my tripod. With a tripod, you have all the time to composite your scene and you have your hands free.
This angle is perfect for storytelling because you can place a lot of props. Furthermore, this angle is perfect to try out different compositions. This is also a great angle for table scenes.
Flatlays look the best when everything in the image is in focus. I recommend using a small aperture (> F/8) for sharp flatlays.
A great tip is to use different layers while shooting overhead to make the photo more interesting and less flat. Use different heights in your compositions to make the photo look more 3D.
If you have a macro lens, this angle is also perfect to shoot macro shots of fruits. Like I did below. Use some water on your ingredients to make them look fresher.
2. Shooting at 45 degrees angle
The second angle is the 45-degree angle. The 45-degree angle is the same angle as people normally see food. Therefore it will feel natural. It is a versatile angle because you can see different sides of the food. You can use this angle on almost every dish. You don't have to put the camera on exactly 45 degrees. Experiment and look at what is the best angle for your food.
The 45-degrees angle emphasizes the texture and the depth in a photo and makes it more real. This angle is also a popular angle for shooting drinks.
The focal length of the lens you are shooting with will have an impact on the general look of your photo. For this angle, I love using my macro lens for capturing beautiful details, or my 50 mm lens (I have a cropped sensor camera).
3. Straight on or 0 degrees angle
The third angle is to shoot your food straight-on. You can see the hero from his side. Therefore this angle emphasizes the height of the dish. This angle works perfectly for tall or stacked food, like burgers, sandwiches, and drinks. Or for food that has more details on the side than on the top
Shooting straight on is the best angle for shooting action. Because you can see the whole action from the best side. Do you want to learn how to capture action? I made a blog post where I give 11 tips to take great food photography action shots.
Same food different angles
There is no right or wrong in choosing an angle. One dish can look amazing from different angles. So try them all out and experiment with them. But remember that you have to show the food in the best way possible. For every angle, you need to style your scene differently so the food looks good.
For example the passion fruit cheesecake below. Pies are perfect to shoot from above. Because of the different layers, the food didn't look flat. You can see that I styled and shoot the 3 camera angles differently. For the straight-on shot, I needed to add some action, otherwise, the pie would look very flat. Another option was to only shoot one slice of this pie straight on.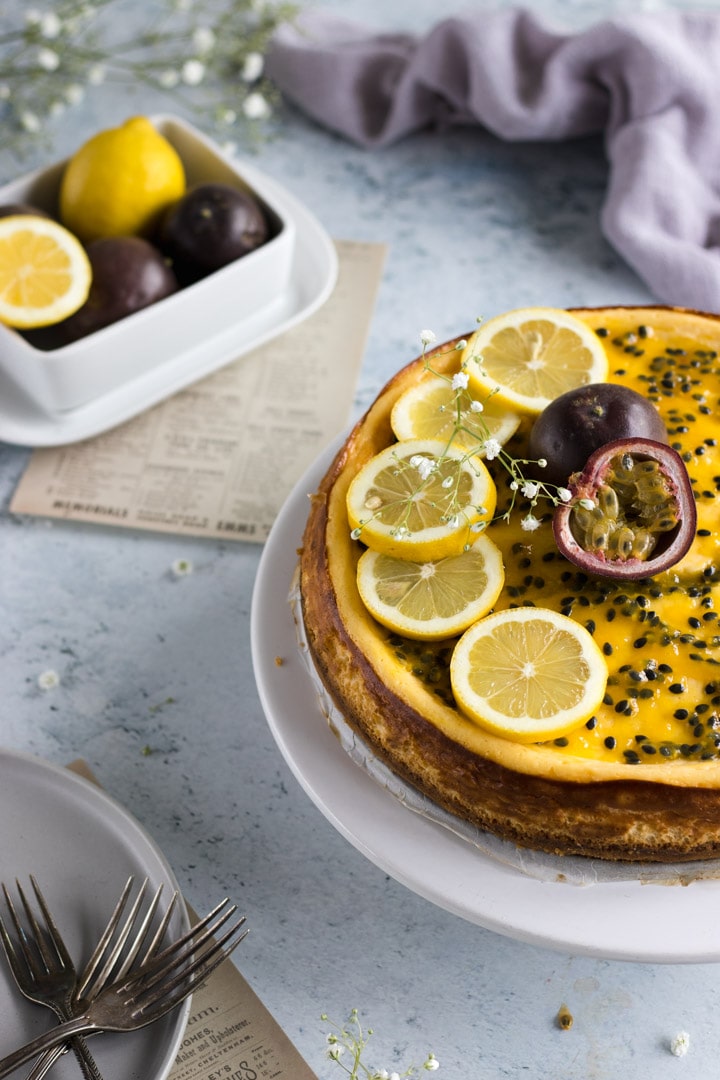 Conclusion
Plan out your scene so you can save a lot of time on set. You can save time because you know how to composite and style your food photography scene. But there is no right or wrong. Let your creativity flow.
The 3 best camera angles for food photography are:
Do you want to shoot action? Try to shoot your food straight on. Do you want to photograph food with a lot of height? Then shoot straight on as well. Are you going to photograph something flat? Try to shoot it from above, but use different layers to make it look less flat.
If you are struggling with your composition it sometimes helps to change your camera angle to get a new perspective. Just try out and have fun!
More resources on food photography
This post contains affiliate links. This means that I may receive a commission if you make a purchase using these links, which help me run this site. You can read my affiliate policy here.